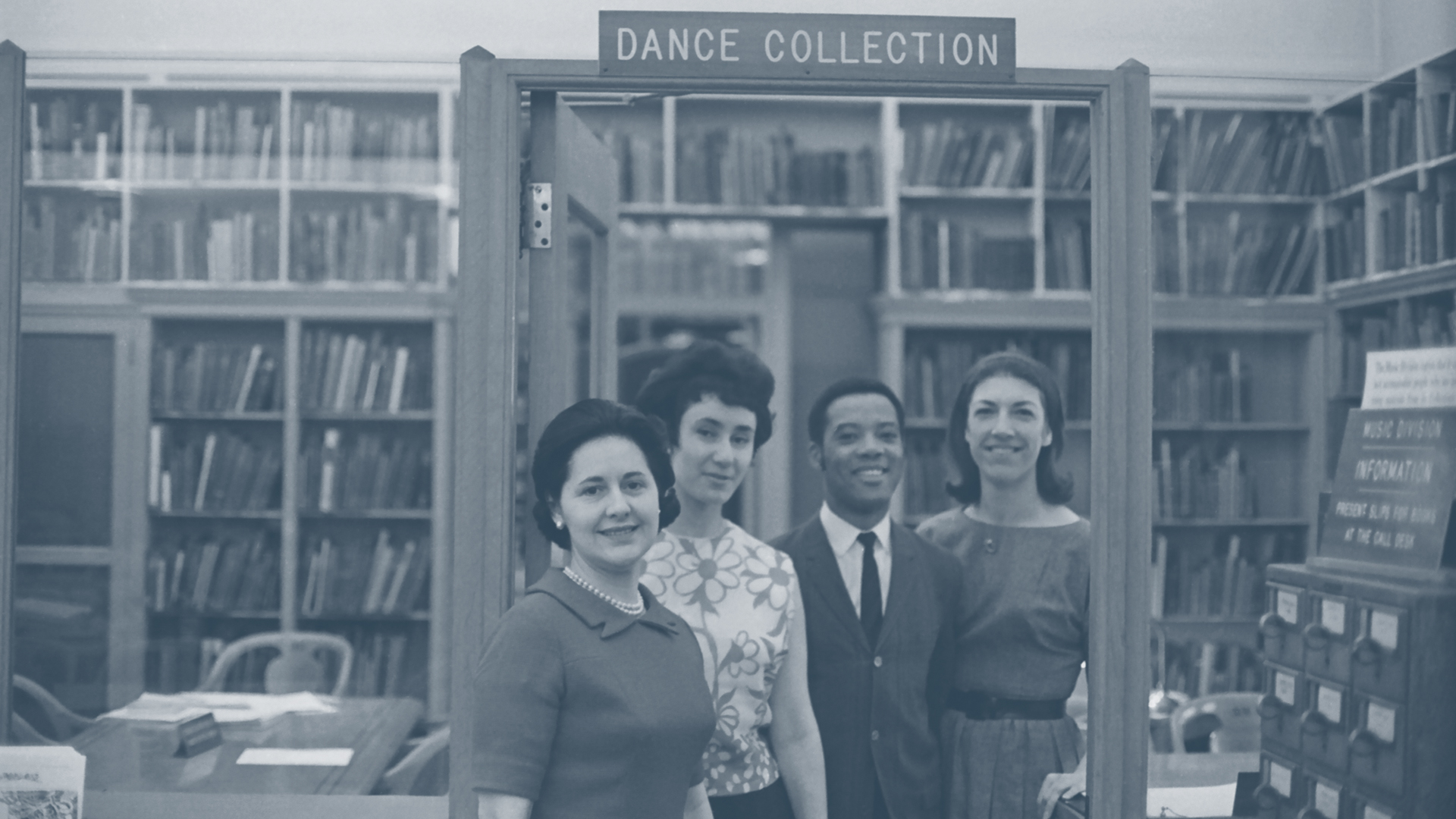 This event has passed
The Jerome Robbins Dance Division celebrates its 75th year with an exhibition that charts its history and the establishment of international dance archival practices through the display of significant items from its collections.
Originally called the Dance Collection and housed at the Stephen A. Schwarzman Building at 42nd Street, in the 75 years since its creation, The New York Public Library's Dance Division has become the world's preeminent collection of dance research materials. Renamed in honor of Jerome Robbins — one of the Dance Division's greatest supporters — in 1999, the Division not only houses its name sake's vast collection, but is the leading international repository for the history of dance, with documentation that dates back to 1453 and representation for dance of all styles from around the world. The archive includes irreplaceable film that dates back to 1897; unique designs by visual artists; choreographic notation; photographs; manuscript collections; shoes and many more examples of ephemera. When taken together, these materials provide the opportunity to fleetingly recapture the most elusive of the performing arts.
Archive in Motion is made possible by the generous support of Charles and Deborah Adelman, Maria-Cristina Anzola and John G. Heimann, Edward Brill and Michele Levin, Leslie Tonner Curtis, Richard Dow and Maggie Flanigan, Frankfurt Kurnit Klein & Selz, Pat and Alex Gabay, Perry and Marty Granoff, Allen Greenberg, Judith M. Hoffman, Barbara Horgan, Caroline Howard Hyman, Judith A. Kinberg, Nancy N. Lassalle, Elizabeth D. Lorenzo, Brian Meehan, Morgan Stanley, Marie Nugent-Head, Patty Pei and James Chang, The Jerome Robbins Foundation, Inc., Magda Saleh, Mary Lou Sax, Robert A. Schulman, Michael and Susanna Steinberg, Michael E. Stern, and an anonymous donor.   
The New York Public Library for the Performing Arts gratefully acknowledges the leadership support of Dorothy and Lewis B. Cullman. Additional support for exhibitions has been provided by Judy R. and Alfred A. Rosenberg and the Miriam and Harold Steinberg Foundation. 
Venue
The New York Public Library for the Performing Arts
Exhibition: Archive in Motion