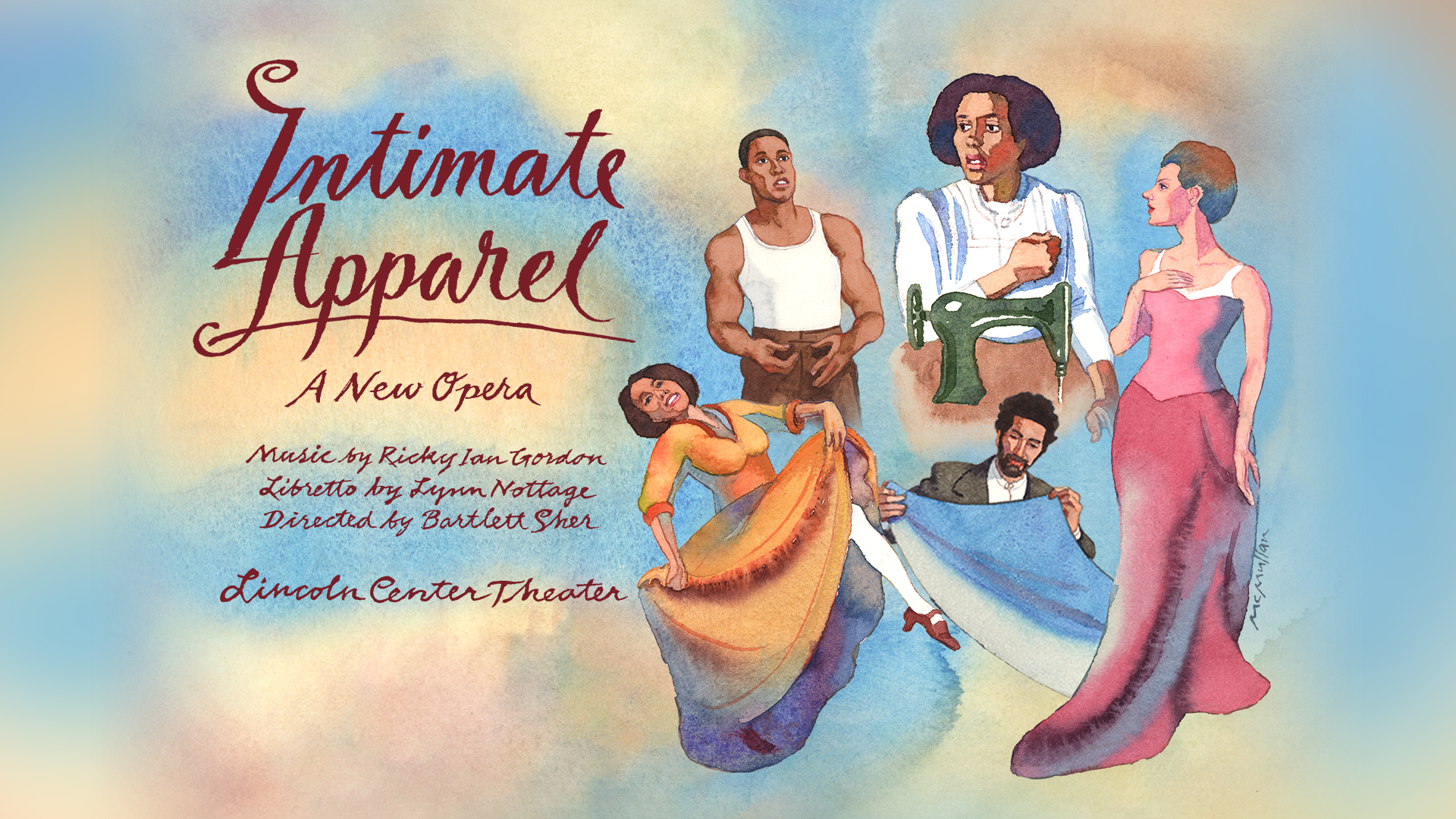 INTIMATE APPAREL WILL REOPEN THIS FALL! The production was forced to suspend performances on March 12 when theaters were closed by Governor Andrew Cuomo as a precaution against the outbreak of Covid-19.
MORE INFO »
Set in turn of the century New York, INTIMATE APPAREL tells the story of Esther, a lonely, single African-American woman who makes her living sewing beautiful corsets and ladies' undergarments.  Seeking love and romance, Esther embarks on a letter writing relationship with a mysterious suitor laboring on the Panama Canal, and comes to realize that only her self-reliance and certainty of her own worth will see her through life's challenges. 

INTIMATE APPAREL is a new opera with music by Ricky Ian Gordon and a libretto by Lynn Nottage, based on her critically acclaimed play. Directed by Bartlett Sher.
CAST
Dominic Armstrong,
John, Ensemble
Justin Austin,
George Armstrong
Errin Duane Brooks,
Mr. Charles, Ensemble
Helena Brown,
Ensemble
Kearstin Piper Brown,
Esther
Chanáe Curtis,
Swing
Adrienne Danrich,
Mrs. Dickson
Leroy Y. Davis,
Young Man, Ensemble
Matthew Gamble,
Swing
Arnold Livingston Geis,
Mr. Marks
Christian Mark Gibbs,
Swing, Dance Captain
Tesia Kwarteng,
Ensemble
Anna Laurenzo,
Young Woman, Ensemble
Justin Lee Miller,
Ensemble
Jasmine Muhammad,
Corinna Mae, Ensemble
Naomi Louisa O'Connell,
Mrs. Van Buren
Kimberli Render,
Swing
Krysty Swann,
Mayme
Chabrelle Williams,
Esther alternate
CREATIVE
Ricky Ian Gordon, Music
Lynn Nottage, Libretto
Bartlett Sher, Director
Dianne McIntyre, Choreographer
Steven Osgood, Music Director
Michael Yeargan, Sets
Catherine Zuber, Costumes
Jennifer Tipton, Lighting
Marc Salzberg, Sound
59 Productions, Projections
Telsey + Company, Casting
Melissa Wegner, Metropolitan Opera Casting Consultant
Theresa Flanagan, Stage Manager