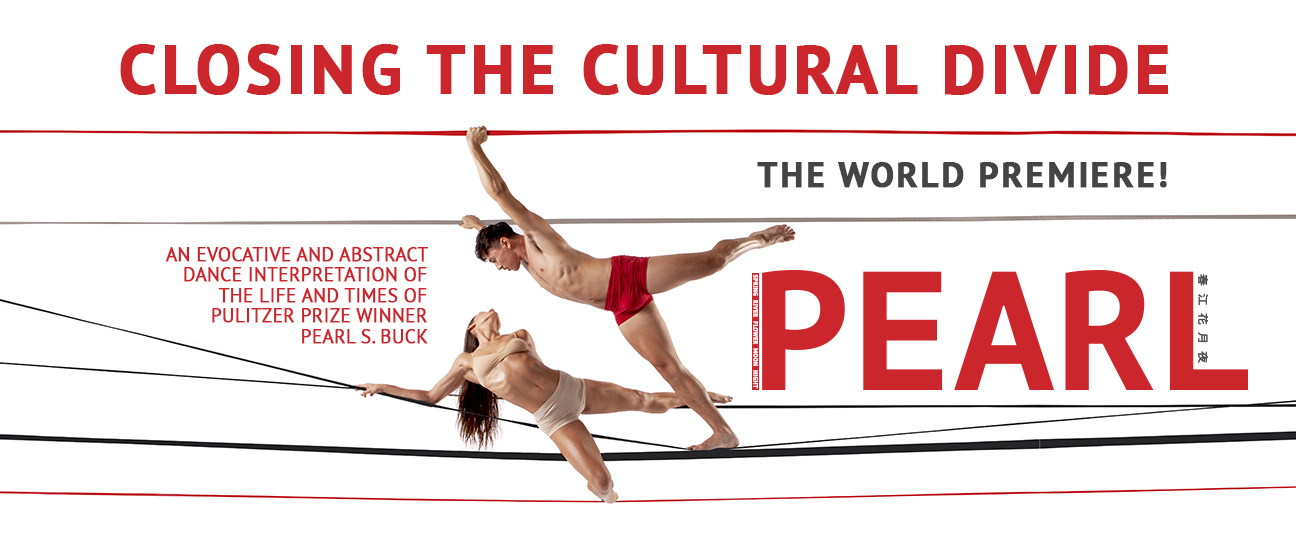 This event has passed
Come explore one of the most fascinating and emotion filled stories from the 20th Century-PEARL . This new, evocative and abstract  dance show , celebrating the  life of Pulitzer prize winning author Pearl S.  Buck is directed and choreographed by Daniel Ezralow. PEARL features an amazing cast of 30 Chinese and American dancers including internationally acclaimed dancer Margie Gillis. Pearl's story, will be brought to life through the art of dance, highlighting the closing of the cultural divide…. "East meets West". The show will be told in five symbolic stages – Spring, River, Flower, Moon, Night – based on a famous poem written by Zhang Ruoxu about the passing of human existence, which is expressed by scenic representation in the poem. THE world premiere is produced by Angela Tang, Legend River Ent. Co. Ltd.
Pearl premieres at the David H. Koch theater with a limited engagement of only four performances.
Show Times:
August 27 - 7:30pm
August 28 - 8:00pm
August 29 - 8:00pm
August 30 - 3:00pm
Creative Team includes:
Pearl brings together an incredible team of creatives from various backgrounds to build a visually and musically stimulating experience. The show is being directed and choreographed by Daniel Ezralow (Choreographer: Sochi Olympics Opening Ceremony, Across the Universe, Spiderman Turn Off The Dark) and produced by Angela Xiaolei Tang, CEO of Legend River Entertainment with Bags Live as the co-Producer. The set design is by Michael Cotten (Michael Jackson's "This Is It", Tours for Carrie Underwood, Katy Perry, Miley Cyrus), with music composed by Jun Miyake ("Pina"), and costume design by Oana Botez ("Man in a Case", "A House in Bali", "Alan Smithee Directed This Play"). Mirada ("Dark Horse" music video for Katy Perry, IBM Think Exhibit, promo video for Disney's New Fantasyland) will contribute the video design. 
Cast includes:
Alexei Geronimo, Annie Gratton, Anthea Young, Ashley Li, Baden Silva, Chelsey Arce, Emily Crouch, Isaac Huerta, Jordan Johnson, Kelly Allen, Kelsey Landers, Krystal Matsuyama, Lani Yamanaka, Leona Marimune, Matt Peacock, Nico Greetham, Nicole Ishimaru, Patrick Cook, Raymond Ejiofor, Resean Pates, Ricky Jaime, Ryan Ruiz, Samantha Cantoria, Sasha Rivero, Stephanie Kim, Teddy Coffey, Vanessa Trevino, and with special character roles by Margie Gillis and Yasmine Arya.
Pearl's Story:
Pearl Comfort Sydenstricker was born June 26, 1892 in Hillsboro, West Virginia at the home of her mother's family. Pearl's parents had been Presbyterian missionaries in China since 1880 and were home on furlough when she was born. They returned to China five months after Pearl's birth.  Pearl's parents preferred to live among the Chinese and not in the missionary compound. Thus, she grew up in close intimacy with the Chinese people, speaking Chinese, playing with Chinese children, visiting their homes, listening to their ideas and absorbing their culture. These experiences helped to develop the mind and the imagination of an alert, intelligent child, who later used this material in her novels.  On March 4, 1920, Pearl Buck gave birth to her only biological child, Carol. She was concerned that Carol was not developing normally, but received little or no support. At that time, nothing was known about the eventual diagnosis of PKU syndrome (phenylketonuria), which results in progressive mental deterioration if not treated immediately at birth. In 1929, Pearl enrolled Carol at the Vineland Training School in Vineland, New Jersey, where she lived until her death in 1992.  In 1950, Pearl Buck wrote The Child Who Never Grew about her personal feelings and experiences with Carol. The book helped many other parents of children with similar mental disabilities.  In 1925, the Buck family came to the United States to Cornell University, where Pearl Buck received her MA in English Literature. Before returning to China, the couple adopted an American baby girl and named her Janice.  Concerned about paying for Carol's schooling, Pearl Buck wrote her first novel, East Wind, West Wind. It was rejected by many publishers, but Richard Walsh of the John Day Publishing Company published the book in 1930. Her next book, The Good Earth, was awarded the Pulitzer Prize in 1932 and remained on the bestseller list for 21 months. It was also developed into an Oscar Award-winning film in 1937. Pearl Buck was the first American woman to receive both the Nobel Prize in Literature and the Pulitzer Prize.
PEARL, Spring, River, Flower, Moon, Night