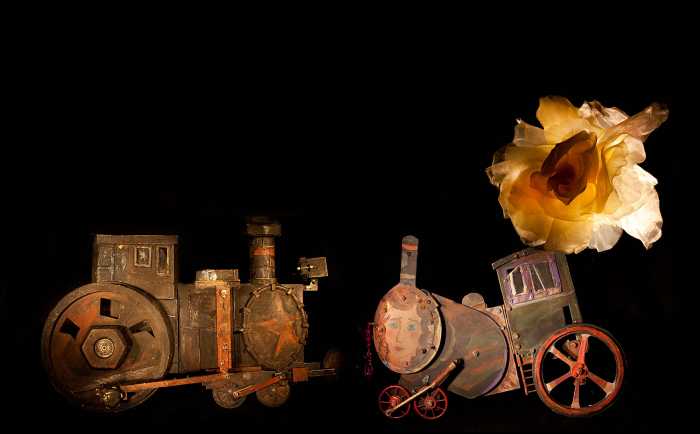 This event has passed
Ermon and Ramona
Irakly Sharashidze
A tragic tale of two trains in love, Ramona takes place in the small railway station of Rioni, where the romantic title character, a shunting engine only able to move 300 meters each way, waits for her heroic locomotive Ermon to return from his journey across the railroads of Russia.
Rezo Gabriadze, the architect of a unique theatrical style that marries humor and heartbreak in a world of marionettes that are uncannily human, describes his journey to Ramona: "Kipling once said that a locomotive is, next to a marine engine, the most sensitive thing man ever made….The long-forgotten and warm word 'locomotive' awoke in my mind—breathing clouds of vapor, hoarse, smelling of coal smoke even in wet weather. The locomotive led me to another joy—the circus, smelling of tarpaulin, sawdust and of something I wouldn't want to call manure—the circus tent of my childhood. And these two motifs met—the locomotive and the big top. These were things that seemed to have long disappeared and I felt a need to tell about that feeling of paradise I'd once found myself in, not deserving it, and from where life had exiled me."
Gabriadze Theatre makes its fourth visit to the Festival after stellar reviews and sold-out performances of The Battle of Stalingrad (2002, 2010) and Autumn of My Springtime (2002). In Ramona, a production inspired by Georgian folk song and set within an extraordinary set made from discarded objects, the director and his puppeteers crystallize, in miniature, the joy and heartbreak of love and the unrecoverable past.