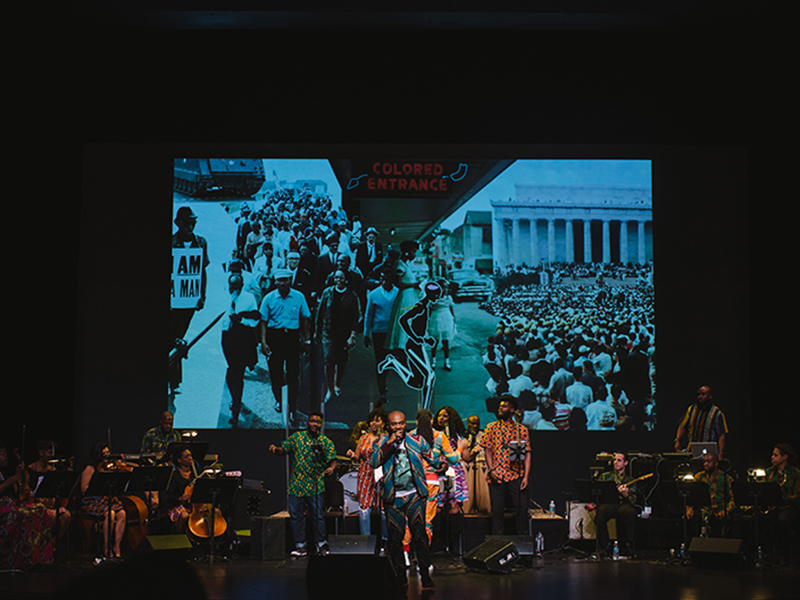 This event has passed
Copyright Cait McCarthy Photography
From the folk and gospel-influenced songs that reflect the sentiments of the 1963 Civil Rights Movement to the hip-hop anthems recognizing that Black Lives Matter, music has always supported and strengthened outcries for social justice. Created by the brilliant minds of Soul Science Lab, Soundtrack '63 is a live, multimedia musical performance that traces the African American experience from before the Middle Passage to the present Black Lives Matter movement. Archival video footage, animation, and narration are combined with a live soundtrack of spirituals, protest songs, and popular music performed by an 11-piece orchestra and dynamic vocal ensemble.
Performance length: 75 minutes
Venue
165 West 65th Street
Accessibility
Wheelchair-accessible seating

Assistive listening devices
Soundtrack '63
Soul Science Lab
New York
Saturday, February 23, 2019 at 2:00 pm Clark Studio Theater
All available seats are currently sold out. Additional seats may be released closer to the performance date. Please continue to check back.
Cast List
Creative Director, Soundtrack '63 and Co-Founder, Soul Science Lab: Chenits Pettigrew
Musical Director, Soundtrack '63 and Co-Founder, Soul Science Lab: Asante Amin
Drums: Cinque Kemp
Bass Guitar: Parker McAllister
Keyboard: Warren Fields
Percussion: Kofi Hunter
DJ: Kyle "DJ Scan" Clinton
Vocalists: Aaron Marcellus, Karyn Porter-Williams, and Matthew Thomas
Trombone: Robert Stringer
Trumpet: William Lee Hogans
Guitar: Dave Rosenthal
Visual Engineer: Saadah Espii Proctor
Costume Designer: Naana Badu
Production and Stage Manager: Gwen Gilliam
Manager and Publicist: Jasu Sims