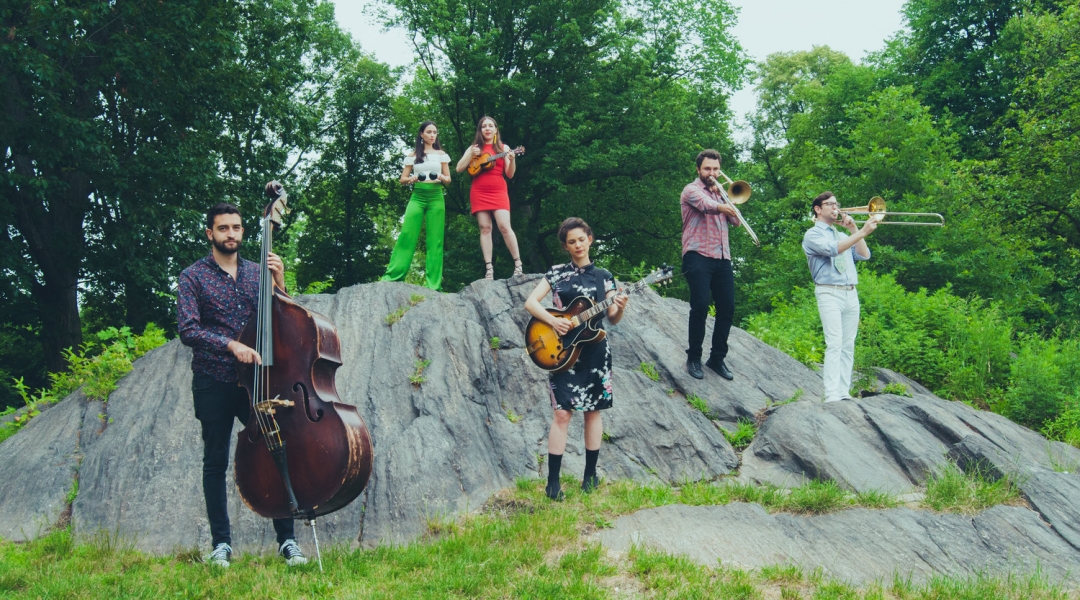 This event has passed
JAZZ IN TIMES SQUARE Concert Series Curated by Jazz at Lincoln Center
Location: Broadway Plaza between 46th and 47th Streets
Give your Thursday night a new rhythm as you head to the train or wait for a colleague to join you for dinner. Jazz at Lincoln Center brings New York City's hottest young jazz bands to the plaza, creating the feeling of an intimate club amidst the lights and sounds of Times Square.
The Ladybugs' music features the dreamy, dulcet tones of voices and trombones. Lead by Martina DaSilva, their unique instrumentation of two lead singers (both doubling in percussion and ukulele), two trombone players, guitar, and bass allows for a lush sound that uplifts and attracts all audiences. The Ladybugs' repertoire includes favorites from the 1920s, '30s, and '40s, infused with country, blues, latin, and classical music. The band has received high praise for recent performances at the Kennedy Center, Jazz at Lincoln Center, the New York Hot Jazz Festival, the New York City Winter Jazzfest, and the Catskill Jazz Factory. With an uplifting sound that attracts all audiences, The Ladybugs effortlessly keep listeners smiling and moving. In September 2015, The Ladybugs released their debut self-titled album to rave reviews.
Venue and Accessibility
Broadway at 60th Street
For questions about accessibility or to request an accommodation, please contact [email protected] or 212.875.5375.
For ticketing information and general questions, please call 212.721.6500.