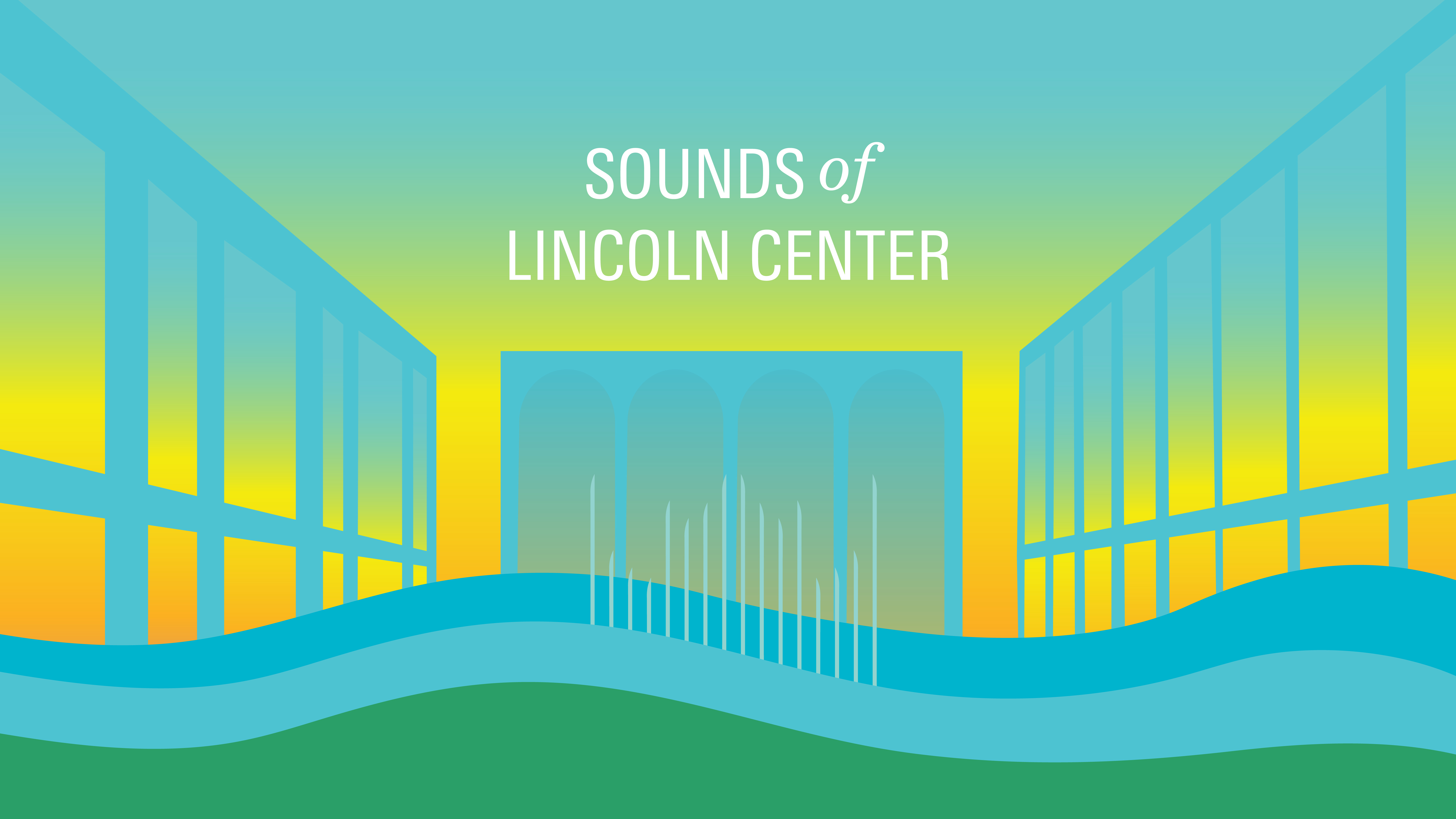 During this time of social distancing, we are bringing the Sounds of Lincoln Center outdoors on our campus and to you via digital playlists. During the day, we're filling our iconic plaza with music of joy, beauty, comfort, grief, and hope; music that reminds us of the power of the live arts to speak to our current reality and to help us imagine new futures ahead. All of the organizations at Lincoln Center have contributed to these playlists, as well as staff and community partners. Stay tuned for new playlists in the coming days.
Sounds of Lincoln Center: Lincoln Center for the Performing Arts
Introducing an eclectic mix of popular and classical favorites carefully curated by the employees of Lincoln Center for the Performing Arts. From Broadway to Bach and Reggae to Rumba, the playlist includes a diverse range of musical perspectives reflecting the diversity of our city.
Sounds of Lincoln Center: The Juilliard School
The Juilliard School celebrates its illustrious alumni composers and performers with a special selection of music across the genres represented at the school.
Sounds of Lincoln Center: The New York Public Library for the Performing Arts
Inspired by the rich and varied archival holdings of the Library for the Performing Arts, this array of sounds and styles invites you to reflect upon and celebrate life and love in our changed city. Use these sounds to dance and sing, rest and dream, be where you are, and imagine where we are going.
Sounds of Lincoln Center: The New York Philharmonic
The New York Philharmonic asked audience members and social media fans to share their favorite pieces and songs that help them heal. The responses can be found in this crowd-sourced playlist of life-affirming musical tracks, ranging from Bach to Bernstein, Mahler to Édith Piaf.
Sounds of Lincoln Center: Lincoln Center Theater
Here are selections from some of our favorite Lincoln Center Theater musicals. You'll hear music from Anything Goes, The King and I, Barbara Cook's Broadway, South Pacific, A New Brain, A Man of No Importance, Falsettos, Women on the Verge of a Nervous Breakdown and My Fair Lady!
Sounds of Lincoln Center: NYCB and SAB
Allowing our audiences to "see the music and hear the dance," is a quality that we most strive for in our work at both SAB and NYCB, and because music has always been the driving force behind our aesthetic, we are thrilled to offer a sampling of music that could best describe both the heart and backbone of our iconic and expansive repertory.
We are hopeful that old friends and new might enjoy the opportunity to "see the music and hear the dances" of our beloved ballet institutions, at this time—while we await a return to our studios and stage.
Sounds of Lincoln Center: Jazz at Lincoln Center
Born out of the African-American community at the turn of the 20th century, Jazz has played a critical role as an outlet for expressing freedom through the methods of improvisation and experimentation. Listen to a special curated playlist by Jazz at Lincoln Center featuring classic and contemporary recordings that both reflect the current times as well as inspire and soundtrack the movement ahead.
Sounds of Lincoln Center: The Metropolitan Opera
Find consolation and solace in some of opera's most uplifting melodies. This specially curated lineup from the Metropolitan Opera features moving selections by Mozart, Verdi, Wagner, Puccini, Strauss, and many more of your favorite composers.
Sounds of Lincoln Center: Chamber Music Society
CMS offers the Brandenburg Concerto to the NY community every year because they are the essence of vitality and vibrancy of making music together. We hope they will bring you joy and optimism too! - Co-Artistic Directors David Finckel and Wu Han
Sounds of Lincoln Center: Bronx Music Heritage Center
¡Resistencia!: In keeping with the transformative times we are living in, these songs from Latin American and Latinx artists speak out against racism, facism, colonialism, as well as celebrate some of the heroes who stood up to and fought against these injustices such as MLK, Pedro Albizu Campos and Anacaona.
Sounds of Lincoln Center: Korean Cultural Center of New York
A mix of songs from Korean folk music of the 1960s up to the newest K-pop hits! We invite you to hear a dynamic mix of sounds ranging from gugak-jazz fusion, avant rock, to contemporary R&B.
Sounds of Lincoln Center: India Center Foundation, curated by Ashu Rai
The playlist reflects Ashu Rai's musical influences from his early teens to the present day. The songs featured include his choice cuts played at the dance party "Desilicious" —a safe and celebratory space for the South Asian LGBTQ community and friends. He hopes you enjoy this soundtrack as we reawaken slowly and carefully!
Sounds of Lincoln Center: Harlem Week and IMPACT Repertory Theatre
Harlem Week and IMPACT Repertory Theatre collaborated to create their playlist for the Plaza. What originally started as a one-day tribute to one of the most culturally rich neighborhoods in the world has now become a month-long celebration enjoying its 46th year. Harlem Week is one of the biggest cultural celebrations in the nation with over 111 events featuring conferences, seminars, sports, music, food, dance, and more. IMPACT Repertory Theatre uses the performing arts and the dynamics of leadership training to inspire and empower youth. IMPACT believes that arts and education play a pivotal role in providing opportunities and transitions for the leaders of tomorrow. Together, they have shared some original music as well as music by artists they love and those that inspire them in their collective work.