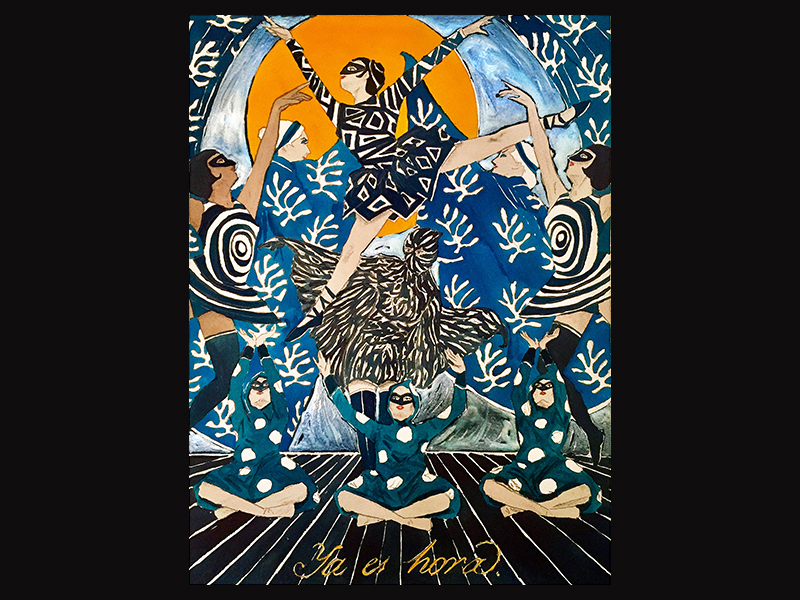 This event has passed
Marcel Dzama, Ya es Hora, 2019, archival pigment print and screenprint, 14 x 11 inches, Edition of 36
Join us for two memorable events dedicated to the history and practice of printmaking, and unique collaborations between Lincoln Center for the Performing Arts (LCPA) and the world of visual arts over the last 60 years!
Art Talk & Printmaking Workshop - Wednesday, December 4, 2019 at 6pm-8pm
Master Printer, Erik Hougan, of the famed Lower East Side Printshop leads a workshop in screen printing!
Founded in 1968, Lower East Side Printshop is a premier not-for-profit printmaking studio in New York City that helps contemporary artists create new artwork and advance their careers. Many established artists have worked at the Printshop, including Kiki Smith, Paul Chan, Glenn Ligon, Nancy Spero and Leon Golub, Philip Taaffe, Robert Longo, Barbara Kruger, Juan Sanchez, and Tomie Arai. The Printshop has recently collaborated with artists such as Derrick Adams, Mark Bradford, Sebastian Bremer, Arturo Herrera, Ryan McGinness, Matthew Day Jackson, Chris Martin, Carrie Moyer, Sheila Pepe, Enoc Perez, Dread Scott, Kate Shepherd, Jean Shin, James Siena, Alison Elizabeth Taylor, Janaina Tschäpe, Kara Walker, and Hank Willis Thomas.
Refreshments and snacks will be served.
LCPA Prints and Posters Collection Tour
LCPA Prints and Posters Collection Tour
LCPA Prints and Posters Collection Tour
FREE for Ticket Holders
Saturday, December 14, 2019 at 11am-12:30pm
Kristina Huntington, Art advisor and print specialist for Lincoln Center Editions, offers an insider's look at an unparalleled collection of prints commissioned by some of the most respected artists in the world. From, Robert Indiana, who created a commemorative poster for the opening of New York State Theater (now David H. Koch Theater) in 1964, to Andy Warhol, who designed the poster for the fifth New York Film Festival, and Marcel Dzama, whose 2019 limited-edition celebrates LCPA's 60th anniversary – LCPA's art collection is a treasure trove that will surprise and delight all art lovers.
The collection tour will start at the David Rubenstein Atrium with an introduction to the art and architecture seen across the 16.3 acre campus that houses the 11 constituents, making Lincoln Center the largest performing arts center in the world.
Art of Printmaking- Workshop and Tour
LCPA Prints and Posters Collection Tour
LCPA Prints and Posters Collection Tour
Saturday, December 14, 2019 at 11am-12:30pm