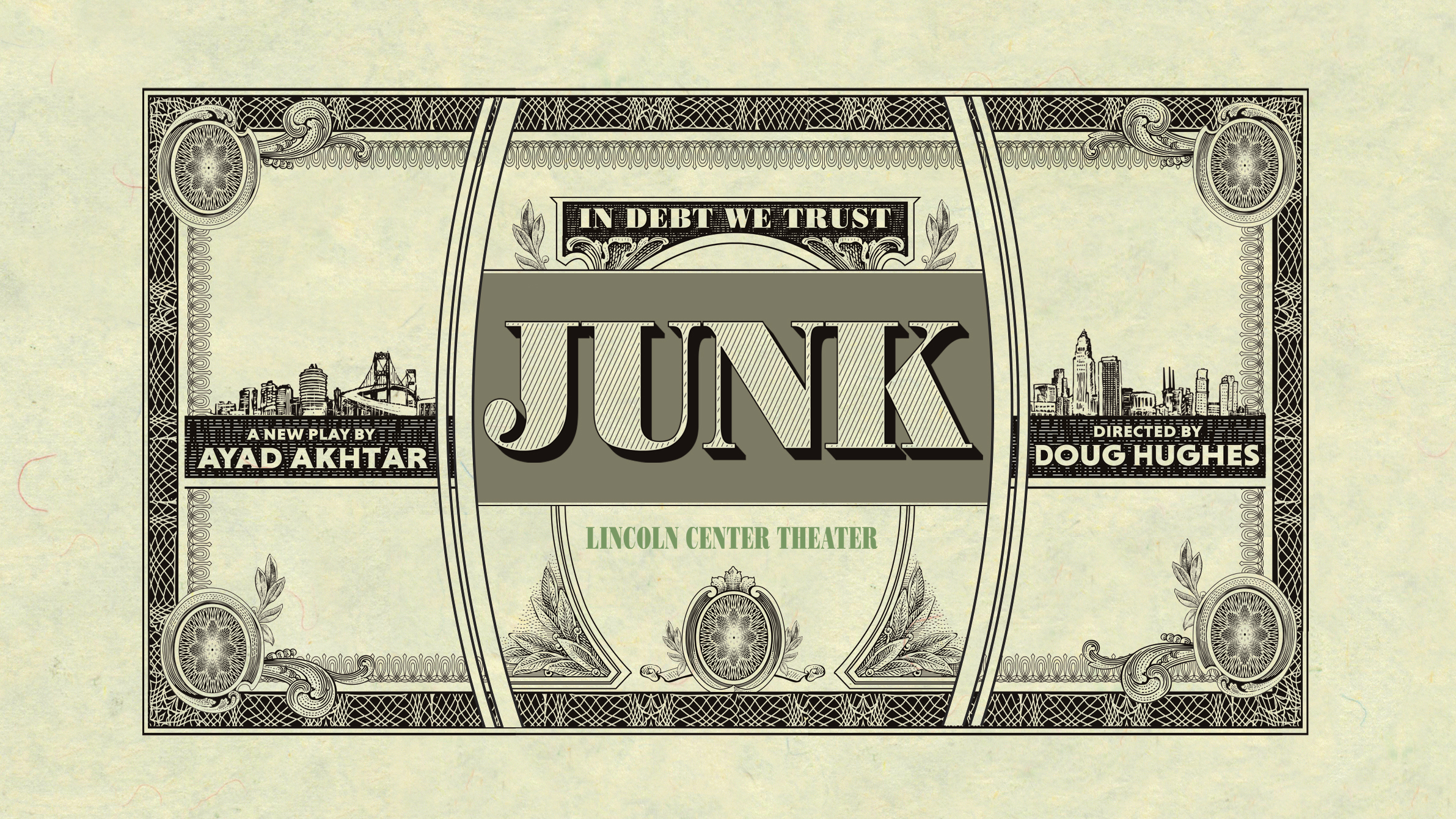 This event has passed
JUNK is the new play from Ayad Akhtar, the Pulitzer Prize-winning author of Disgraced. This riveting drama features Steven Pasquale as Robert Merkin, a financial kingpin of the 80s whose proclamation that debt is an asset propels him to dizzying heights. JUNK breaks down the story of Merkin's "deal of the decade" — his attempt to take over an iconic American manufacturing company changing all the rules in the process. What Merkin sets in motion is nothing less than a financial civil war, pitting magnates against workers, lawyers against journalists, and ultimately, pitting everyone against themselves.
This is a play about how, while most of us weren't watching, money became the only thing of real value.
Steven Pasquale (The Bridges of Madison County and TV's "Rescue Me") leads the large cast as Robert Merkin. Director Doug Hughes (The House in Town at LCT, and Tony winner for Doubt) brings it all to life in the Beaumont with John Lee Beatty (sets), Catherine Zuber (costumes), Ben Stanton (lighting), Mark Bennett (original music and sound) and 59 Productions (projections).
Ito Aghayere

, Jacqueline Blount

Phillip James Brannon

, Kevin Walsh

Tony Carlin

, Kurt/Corrigan Wiley

Demosthenes Chrysan

, Ensemble

Jenelle Chu

, Ensemble

Caroline Hewitt

, Charlene Stewart/Ghost Writer

Rick Holmes

, Thomas Everson

Ted Koch

, Mark O'Hare

Ian Lassiter

, Ensemble

Teresa Avia Lim

, Judy Chen

Adam Ludwig

, Ensemble

Sean McIntyre

, Ensemble

Nate Miller

, Devon Atkins

Steven Pasquale

, Robert Merkin

Ethan Phillips

, Murray Lefkowitz

Matthew Rauch

, Robert McNamara

Matthew Saldivar

, Raúl Rivera

Charlie Semine

, Giuseppi Addesso

Michael Siberry

, Leo Tresler

Miriam Silverman

, Amy Merkin

Joey Slotnick

, Boris Pronsky

Henry Stram

, Maximilien Cizik

Stephanie Umoh

, Ensemble