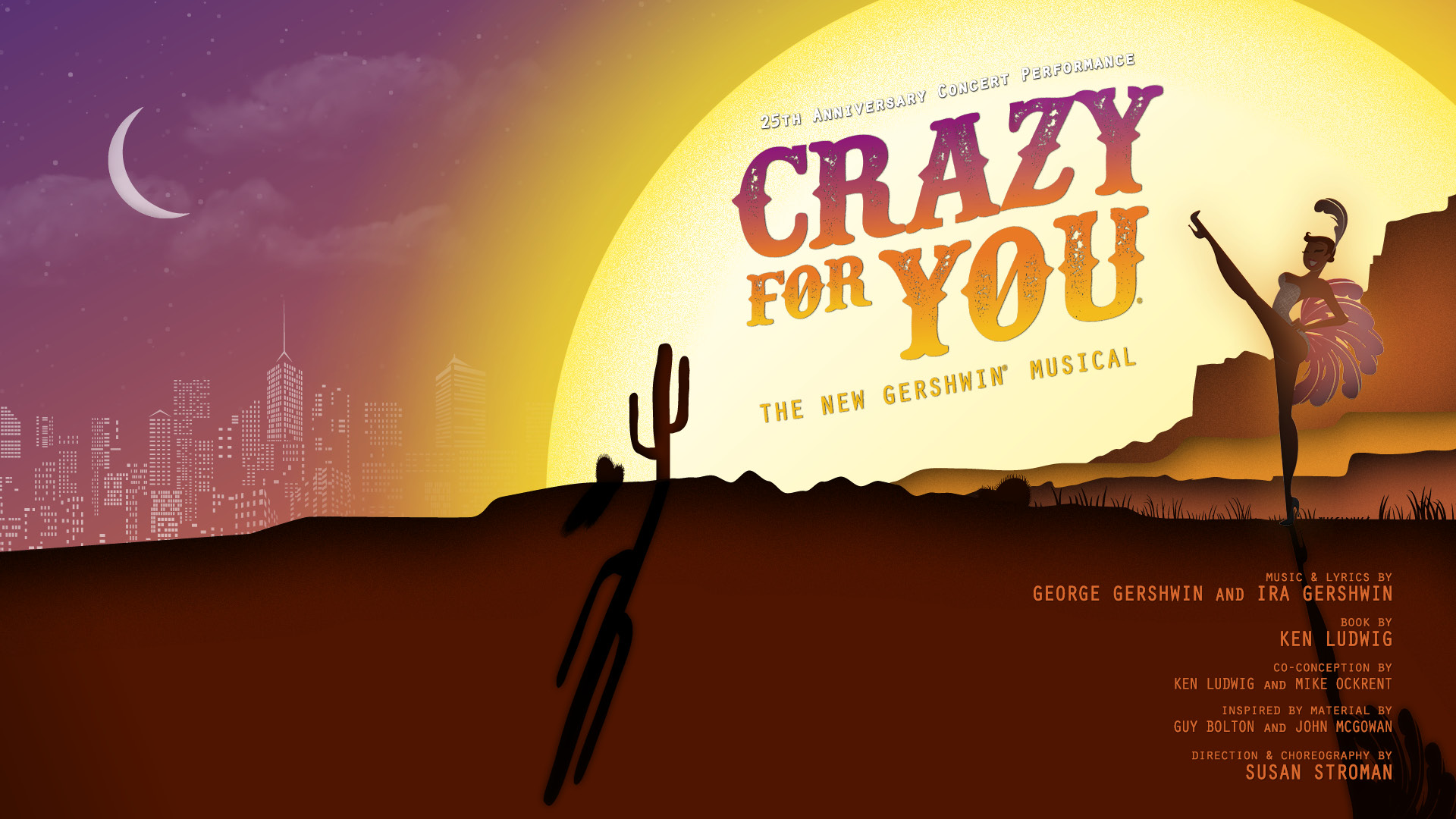 This event has passed
Five-time Tony Award winner Susan Stroman (original Crazy For You, Show Boat, Contact, The Producers) returns to now direct and choreograph the 25th Anniversary concert performances of Crazy for You alongside Broadway veteran Kevin Stites, who serves as Music Director and Conductor. In addition to Stroman's choreography from the original production, this performance features a stunning Broadway and television cast, including a professional creative team, a chorus of 240 singers from across the United States, and the enlarged forces of the New York City Chamber Orchestra.
FEATURING: Rachel Bloom (Irene Roth), Rachel Dratch (Patricia Fodor), Harry Groener (Bela Zangler), Mark Linn-Baker (Everett Baker), Jack McBrayer (Eugene Fodor), Jerry O'Connell (Lank Hawkins), Nancy Opel (Lottie Child), Laura Osnes (Polly Baker), Tony Yazbeck (Bobby Child), Michael Biren (Billy), Jim Borstelmann (Custus), Christine Cornish Smith (Louise), Jeremy Davis (Sam), Jerry Gallagher (Moose), Anne Horak (Patsy), Rashaan James II (Junior), Naomi Kakuk (Vera), Amanda Kloots (Vera), Chris LeBeau (Jimmy), Alicia Lundgren (Mitzi), Brittany Marcin Maschmeyer (Elaine), Kaylee Olson (Sheila), Eric Santagata (Mingo), Angie Schworer (Tess), Victor Wisehart (Wyatt)
With music and lyrics by George Gershwin and Ira Gershwin, and book by Ken Ludwig, Crazy for Youis based on the Gershwin brothers' 1930 musical Girl Crazy, incorporating songs from several other productions as well. The story follows Bobby Child (Yazbeck), a banker who dreams of dancing for Zangler's Follies, the most popular show in New York City. After a failed audition, his mother sends him to Deadrock, Nevada to foreclose on a rundown theater. There he meets Polly Baker (Osnes), who, unbeknownst to him, is the daughter of the theater's owner.  Bobby falls in love with her instantly and hatches a plan to save the theater.
Following the success of The Secret Garden at Lincoln Center earlier this year, Crazy for You marks the fifth installment of Manhattan Concert Productions' critically acclaimed Broadway Series that has also included Parade, Titanic, and Ragtime.
BroadwayWorld's Backstage with Richard Ridge presents an exclusive interview with Crazy for You director and choreographer, Susan Stroman.
http://www.broadwayworld.com/videoembed.php?colid=1531012
ABOUT MANHATTAN CONCERT PRODUCTIONS
Manhattan Concert Productions (MCP) is an esteemed production company in its 18th season. MCP has provided opportunity to thousands of musicians in choirs, bands, and orchestras that have performed at famous venues throughout the United States and many countries abroad. Additionally, MCP regularly features the work of professional singers, actors, instrumentalists, conductors and composers. The guest musicians of the Crazy for You chorus will spend five days in New York City rehearsing and performing side-by-side with the professional principal cast and crew as part of Manhattan Concert Productions' continuing mission of student and professional collaboration. Visit www.mcp.us to learn more.
MCP presents CRAZY FOR YOU — A 25th Anniversary Concert Performance