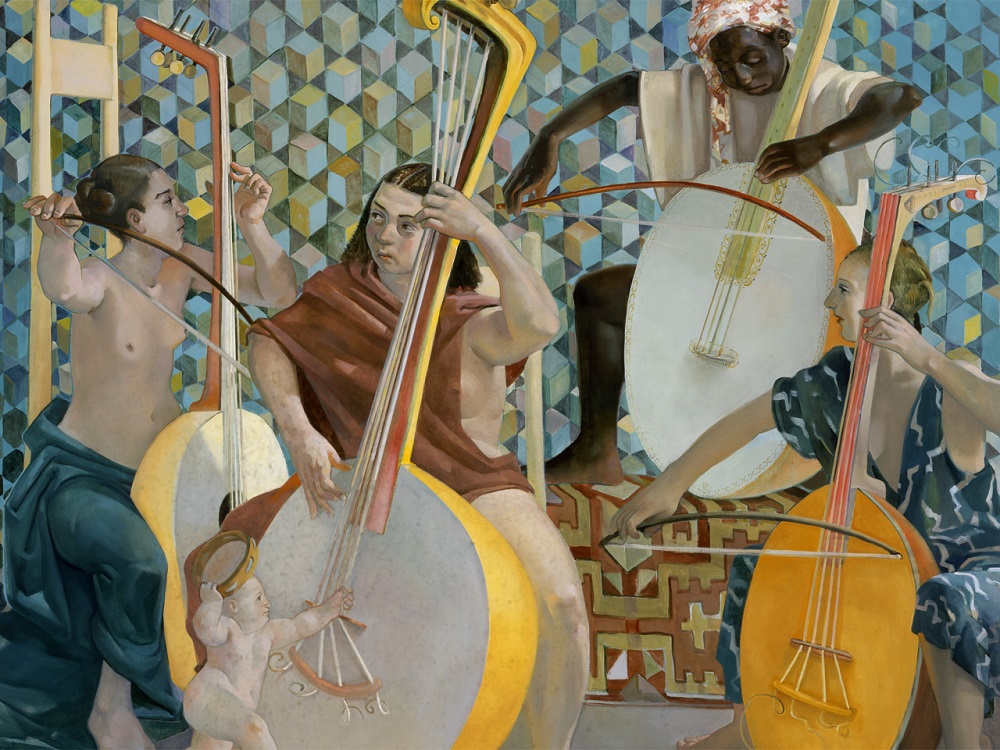 The Voice of Silence is colored by passion, war and the quest for homeland. Journey from Virgil's Aeneid to the realities of today in two world premiere symphonic works by composer Georgia Shreve. Lavinia, inspired by Ursula Le Guin's feminist take on the Aeneid, featuring artwork by Barnaby Fitzgerald, and Portraits of the 20th Century, a reflection on the dramatic events of the last century.  Steven Mercurio, Music Director, Czech National Symphony Orchestra, conducts. With soprano Alexandra Nowakowski and Meredith Lustig, mezzo-soprano Megan Moore and Carla Jablonski, tenor, Adrian Dwyer and Roy Hage, and baritone Timothy McDevitt  and Brandon Cedel.      
Lavinia
A feminist take on the Aeneid focused on the third woman in Aeneas's life, Lavinia.  As Virgil was dying when he was writing this section of the book, her presence is somewhat limited.   However, Ursula LeGuin, the prizewinning author of 14 brilliant books, has reconceived Lavinia in her novel of the same name in a more prominent and assertive role. 
Lavinia is the only daughter of King Latinus of Latium and is pursued by many suitors who wish to take over the kingdom. Aeneas is urged by an omen to leave Dido and go to Latium to found Rome.  American composer Georgia Shreve's oratorio brings to life the romance between Lavinia and Aeneas and his victory over Turnus, the evil suitor who provokes a war to win her hand.  
Shreve has merged the original text with that of the novel to create a vivid musical vision of this story.  The beautiful and extensive artwork of prominent artist Barnaby Fitzgerald, son of the Robert Fitzgerald, the distinguished world-renowned translator of the Aeneid, features classical imagery reconceived with a contemporary vision.  A projected video montage of this work provides a vivid backdrop to the musical translation and embodiment of the story. 
Portraits of the 20th Century
The year 2000 closed not just a century but a millennium and the maladies and horrors of our civilization stood out in stark relief.  Georgia Shreve's first three movements of this oratorio, Environment, War, and Depression were performed at Carnegie Hall in 2016.  This concert presents the final six movements, including Flight, Exile, Silence, and History, for which Shreve wrote the text to express the highly disturbing aspects of the 20th century. 
Flight and Exile were created to vividly capture the enormous loss of home, homeland, and family in the flood of refugees who were forced to abandon their native land in attempting to escape the suffering inflicted on them by war and racism, and their attendant nightmares.  Silence portrays the harmful and disturbing lack of attention and understanding focused on these issues as they unfolded.  History encompasses all the movements and expresses the eternal quest for the silence of peace and the voice of freedom.  All these pieces vividly portray the difficult struggles involved in the quest to preserve "the voice of freedom, the silence of peace."