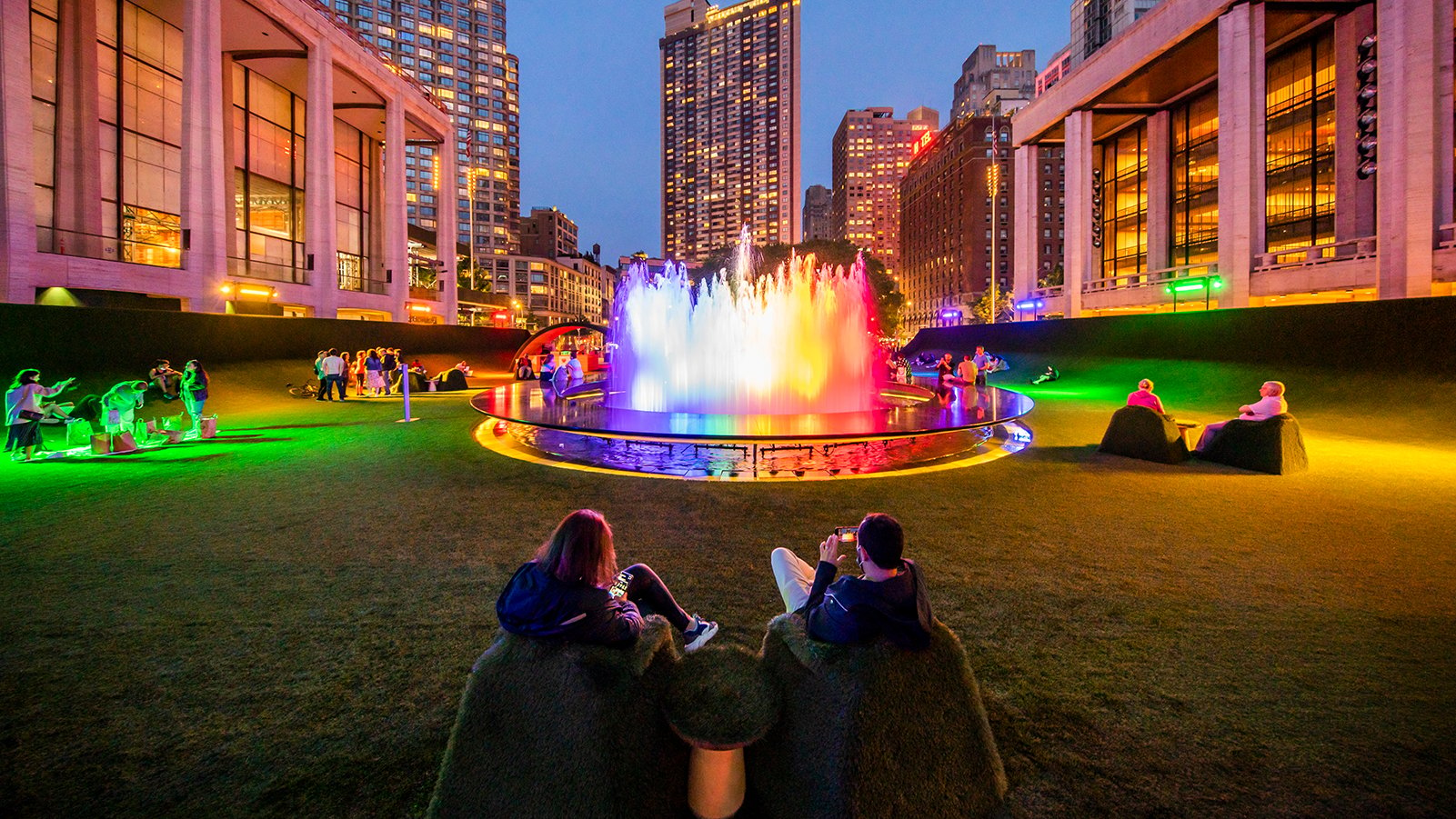 Our iconic Josie Robertson Plaza was re-imagined as we welcomed New Yorkers back to our outdoor campus as part of Restart Stages. Celebrated set designer and MacArthur Genius grantee Mimi Lien re-envisioned the space with "The GREEN," turning the nearly 20,000 square feet of concrete expanse into a participatory public art installation that invites New Yorkers to relax and enjoy the open-air space, along with live performances.
The installation acted as the physical centerpiece of Restart Stages, Lincoln Center's initiative to help kickstart the arts sector and New York City's revival. Restart Stages is part of the Stavros Niarchos Foundation-Lincoln Center Agora Initiative, a collaboration bringing new approaches in cultural engagement to public spaces. With pop-up performances, educational workshops, a reading room, and canteen bites and sips, there's something for the whole family to enjoy this spring and summer at The GREEN.
Please visit our Visitor Guidelines page to learn about health and safety requirements and protocols before enjoying the space.
"When invited to consider how the physical space of Josie Robertson Plaza could be re-envisioned to be a more inclusive and inviting environment, I immediately thought that by changing the ground surface from hard paving stones with no seating to a material like grass, suddenly anyone would be able to sit anywhere," said Mimi Lien.
The GREEN featured grass-like recyclable, biobased SYNLawn material, provided by SYNLawn New York. The GREEN is designed so that people with different levels of mobility can access the space. Cane detection for people who are blind or have low vision is integrated into the architecture.
Restart Stages is made possible by the generous support of the Lincoln Center Board of Directors and the Stavros Niarchos Foundation (SNF) as part of the SNF-Lincoln Center Agora Initiative, a collaboration that reimagines and reactivates public space for a new era.
A Dance for Birds
Samuel Torres Latin Chamber Ensemble Ft: The Bergamot String Quartet