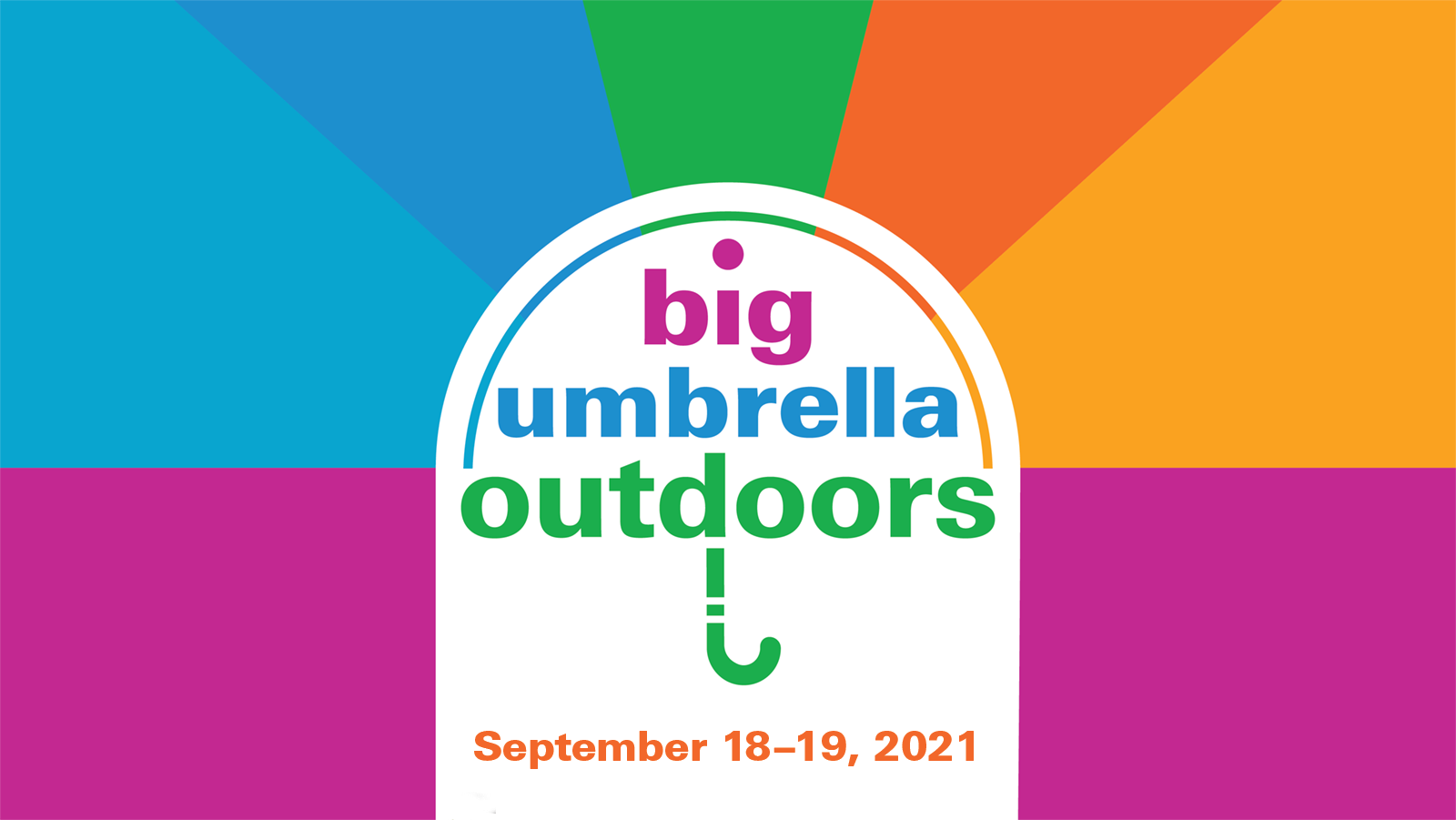 Big Umbrella Outdoors for Families
Lincoln Center welcomes young audiences with autism and other developmental disabilities and their families to Big Umbrella Outdoors, featuring two live performances and several interactive installations, integrating with accessibility and inclusion, to choose from.
By ordering tickets to one of the free 2-hour windows, you and your family will have access to all of the below live performances and installations, including:
Songs from the Spectrum by E.P.I.C. Players (live performance) at Hearst Plaza
The E.P.I.C. Players are a nonprofit, neuro-diverse theatre company dedicated to creating professional performing arts opportunities and supportive social communities in the arts for individuals with developmental disabilities. Join the company of E.P.I.C. Players as they sing songs and share stories about resiliency, empowerment, and hope for the future.
Squonk's Big Hands for a Big Umbrella (live performance) at Damrosch Park
Performance collective Squonk draws from their "Hand to Hand" project to create an immersive, open engagement just for Lincoln Center. This relaxed performance will allow all to express themselves and be comfortable: close or far, touch or not, quiet or loud. Drawing on Squonk's command of multi-sensory performance and their nationally renowned work in participatory inclusiveness, they offer an intimate experience that invites free expression, where stimming, moving, and vocalizing are all welcome. They hope that everyone will find a way to enjoy the sights and sounds of Squonking together!
Swingset Drumkit (interactive installation) at The Deck at Damrosch Park
Swingset Drumkit is a unique, interactive sonic sculpture encouraging people to build rhythmic sounds through their swinging. Swings are attached to large colorful wheels that trigger multiple drumsticks, striking percussive instruments. The speed and swinging height that you swing is translated into varying rhythms and sounds; make your own music by swinging!
OrchidsPlayscape (interactive installation) at Josie Robertson Plaza
OrchidsPlayscape, created by Professor Sean Ahlquist, is a sculpture designed to engage play as a form of sensorial exploration. Guests are encouraged to allow their own creativity to emerge while combining, muting and magnifying sensory elements of the installation. The small, tight, curved, stretchy and tactile-rich spaces are created especially for guests with autism.
Écoute pour voir by Danse Carpe Diem / Emmanuel Jouthe and Ballet For All Kids (live performance) at Josie Robertson Plaza
Écoute pour voir is eight solo artists, scattered in space and dancing simultaneously. Originally created and choreographed by Emmanuel Jouthe and Danse Carpe Diem, performances at Lincoln Center will feature dancers from Ballet For All Kids, which teaches classical ballet technique and other dance styles using TheSchlachte Method, a certified curriculum developed to accommodate all abilities, body types, and learning styles. In Écoute pour voir, one dancer and one audience member equipped with a pair of headphones attached to an iPod share a two-to-three-minute choreographic exchange. Audiences will engage in these artistic experiences in shared celebration of human beings and their abilities.
*Headphones will be provided for this experience. If you prefer to bring your own, please note that they must have a traditional headphone jack of 3.5 mm.
Sun Runners, an intergalactic audio adventure by Audioplay & Windmill Theatre Company
*This experience can be accessed at home via mobile device from September 13 at 10:00 am through September 26. Enjoy 6 interactive episodes, ranging from 15–18 minutes each.
With a pair of headphones and a mobile device, your kids plunge headfirst into an immersive space adventure, hurtling across the farthest reaches of the galaxy in your own living room. Sun Runners infuses imaginative, physical play with a cinematic score to create a thrilling action-packed experience; it's technology without the screens.